Passing of the Hat Tradition
A fond tradition has developed whereby each August at the Association's annual general meeting the outgoing president presents a hat to his or her successor. Examples over the years have ranged from broad-brimmed bonnets to oil-rigger hard hats, from skippers' caps to Samurai warrior head-dress; from hockey helmet to jaunty punting apparel. Whether hunkered down in a fishing canoe or dressing-up for the Ascot races, our president would be ready!
All in jest and good fun, but at least with a theme that was thought to characterize in some way the anticipated issues or confrontations that might arise during that chief executive's term. Every year the moment is captured on film to wild applause from those in attendance. The idea began with our founder and first president, the late Gordon C. Hall, passing the hat to his successor Lawrence A. Poitras to wish him good luck as he took on the president's mantle in 1981. Everyone liked the gesture and it has been carried on ever since.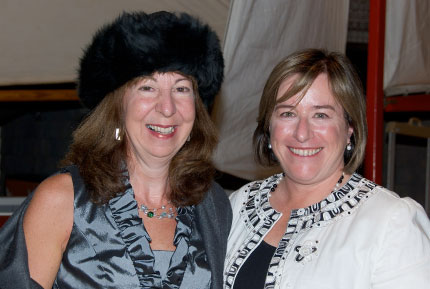 (L.-R.) President Madam Justice Mary Moreau
& Past-President Madam Justice Lynne