Welcome from the President
Welcome to the website of the Canadian Superior Court Judges Association (CSCJA). Founded in 1979, the CSCJA represents nearly all federally appointed judges in Canada. Its mandate includes protecting and enhancing judicial independence, giving judges a forum where they can meet and exchange on issues of common interest, contributing to the education of judges, the improvement of the administration of justice and the rule of law, and dealing with issues concerning the review of judicial conduct.
The CSCJA is governed by a Council composed of approximately 50 members from all Canadian provinces and territories, a Board of Directors composed of 19 members, and an Executive Committee of five members.
Much of the work done by the Association is lead by these governing bodies and performed by many judges from across the country who make up our various committees. These judges volunteer many hours of their personal time in pursuing the objectives of the Association. Their work is essential to the proper functioning of the CSCJA and is most appreciated.
During the past year, the Association has undertaken a review of its governance processes and defined its strategic objectives for the years to come. These changes and objectives were adopted at our general annual meeting, which took place in July 2022. Our goal is to focus our resources on the most pressing interests of our members.
Our main priorities will be to advocate for healthy and positive working conditions for all judges, to strengthen our important relationships with stakeholders like the government, the Canadian Judicial Council (CJC), the Commissioner for Federal Judicial Affairs, the National Judicial Institute, and other Canadian and international legal organizations while preparing in advance for the next Quadrennial Commission. To that end, our Compensation Committee has already been assigned the task of collecting the data and information required to influence fair and competitive compensation and benefits for federally appointed judges.
We will continue to monitor federal projects and legislation and, where appropriate, submit our comments or take action to intervene on arising matters that may impact the federally appointed judiciary. We also look forward to taking part in a new joint committee composed of representatives of the CJC, the Commissioner for Federal Judicial Affairs and our Association that is tasked with monitoring the impact of social media on the judiciary and reviewing the measures in place to ensure the security of judges.
I look forward to leading the Association through these challenges and opportunities this year with the support of our Executive Committee, Board and Council, and the help of our Committee members.
If you are new to the Association, I urge you to get involved. Get in touch directly with me or with the members of the Board of Directors or Council from your province or territory to learn more.
Hon. Justice Michèle Monast
2022-23 President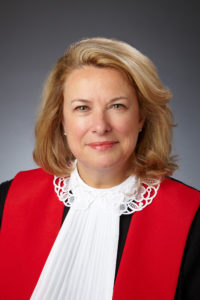 Hon. Justice Michèle Monast